Tech Items: The Future of Promotional Products
It shouldn't come as a surprise that technology is shaping the future of the world we live in, affecting all industries and our personal lives. This was a new era that began in the 90s (a product of the 90s ourselves, even we were pleased to discover the decade produced more than horrific hairstyles!) with the mainstream adoption of personal computers and mobile devices, giving consumers connections and access to information like never before. The technology world itself has since evolved at a fast pace changing business and consumer behavior as it goes - from all appearances and statistics it isn't slowing down! So what does all this mean for your marketing strategy? Let's attempt to launch this explanation without sounding like somebody's mother :)
Simply put, you must adapt! Changing technologies, trends and consumer preferences rule the marketplace and you risk losing out on significant growth opportunities if you don't keep up! Consumers are now more informed and have come to expect more from brands. Technology is always improving so lagging behind will leave you with outdated swag, which will reflect onto your brand. With new tech products surfacing every day, your options are endless when it comes to techy promo items - but staying on top of the latest trends is key! Investing in swag that is useful and on-trend is the best way to maximize your brand exposure.
Our favorite up-to-date pieces can be found in our collection, Tech Favorites. We've featured a few from this collection below. These are useful, trendy items that are topping everyone's wishlist!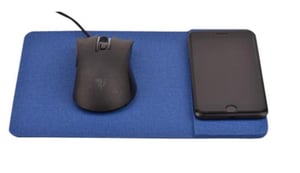 Tech meets elegance in our Qi Wireless Charger and Mouse Mat. A great addition to any desktop or home office, it is a mouse pad and phone charger combined. Charge your phone by simply placing it on the charging pad! Covered in textile fabric, it is available in blue, gray or black. With your logo literally at their fingertips, how could they forget you?
Perfect for the cold weather ahead, our Polar Wireless Earmuffs make it possible for your music and outdoor activities to coexist! Benefits include the ability to enjoy your playlist while keeping your ears toasty warm, without a mess of cords to worry about! Each comes in a black drawstring pouch for convenient gift giving :)
Give your customers the gift of security while keeping your brand in front of them! PC cameras are a popular target for hackers or anyone hoping to steal information. Our webcam covers are an inexpensive, creative way to show you care! The cover adheres directly on top of the webcam with a piece that slides open when it's in use. Your logo prominently printed on this sliding piece will be a friendly reminder every time they use their computer!
Here's wishing them bon voyage! Ideal for the frequent traveler, our SKROSS World Travel Adapter works in more than 150 countries! Manufactured by the king of this space, it is the most powerful travel adapter in the world. The compact 3-pole travel plug works with most devices including laptops, hairdryers and USB devices. A travel companion worthy of your brand!
Our 2-in-1 Lanyard & Micro USB Charging Cable makes the perfect event gift - it's both a lanyard and a phone charger! Simply pull both ends of the micro USB cable out of the connector piece to access the cable. Use the clip to attach I.D's, badges or event passes as you would a standard lanyard. Picture it customized with your logo helping you do beautiful business!
View our full Tech Favorites collection to see what's latest and greatest in tech promos!
---