Understand Imprint Color Terms In Just 3 Minutes!
As you're reading blogs and looking at promotional products online you're probably nodding fervently as if you know what color terms we're talking about, but maybe you really don't! Unless you're an avid promo order-er, you're probably feeling a little lost! So, to help you be that knowledgeable client you've always wanted to be, we're going to clear a couple things up. 😊
PMS (Pantone Matching System)
Probably the most common color system is the PMS (Pantone Matching System). For example, your logo might be red so you're thinking to yourself, "Sweet, this is going to be easy peasy." Buuut, red is a pretty common color and there are hundreds of shades. Specific color names hardly make a difference. "Firetruck Red", for example, varies drastically between printers or even when printed on different promotional items. Before you start sweating over this one, we offer a Pantone Matching System (PMS) which mends all those worries you had! The PMS assigns a number code to each ink color which ensures that each item is printed with the same exact color code. So all your different types of products from socks, to notebooks, to drinkware, etc. is printed with the exact same "Firetruck Red" that you requested. 😊 PMS color matches are available on nearly every product.
Spot Color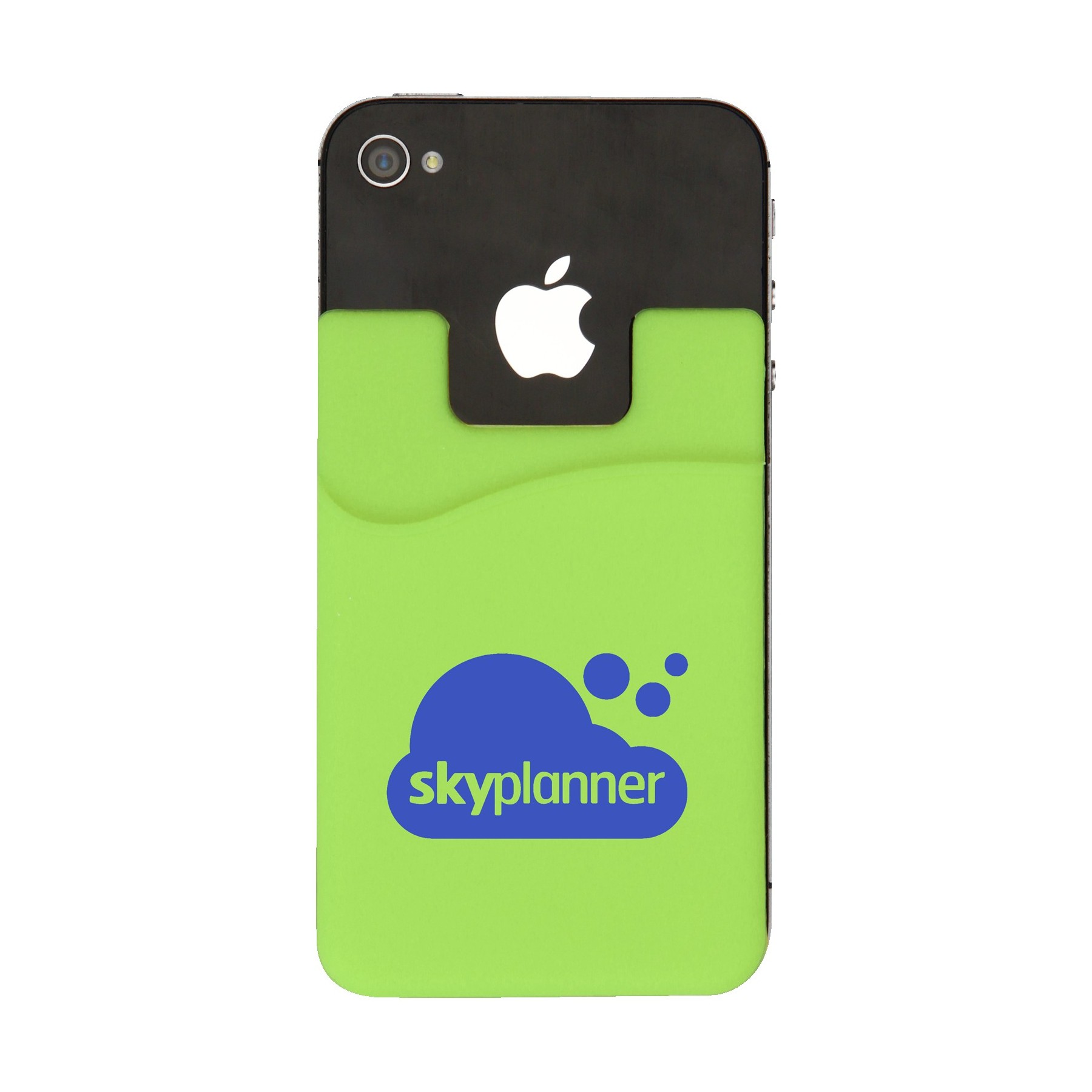 Spot color is most easily defined as a single ink color that's printed from a single plate. If you take a gander to the left, you'll see a lovely bright green smart phone wallet. This bold and beautiful item was printed using spot color – a single color on a single plate. Spot color is most efficient when you're printing something with only one to three colors…if you include more colors you can expect to see your costs rising a little!
Complex designs or photo-like images are printed using the process printing method explained below.
Process Printing
Process color printing is often referred to as CMYK or Four-Color Process because it uses a combination of ink colors in dots to create photo-like images! PMS colors do not apply when using this method.
CMYK stands for cyan (blue), magenta (red), yellow, and black. It uses just those 4 colors to produce all other colors unlike the PMS system where the inks are mixed up with specific formulas, much like buying paint at the hardware store!
Remember back in the days when they used to teach us our primary colors at school? 😊
This process allows you to print images in photograph-like quality. which would be impossible to accomplish with spot coloring printing. The mousepad to the right is printed using process printing.
Another little side note to consider is that the colors you're viewing on your screen will vary from computer to computer. So likely, when you go to have your product printed, it won't match up exactly to what you saw on your screen. This is why having a specific PMS color is very important because you can ensure you're getting the exact color you were expecting! Without a specific color code, you might be getting a little surprise when excitedly opening your box to see some "camouflage green" looking products instead of that "key lime pie green" color you ordered. We hate seeing unhappy faces so it's always a good idea to make sure you've finalized your specific color code! Your reps will be sure to follow up with you before ordering your branded swag. We want to make sure you're choosing the right products with the best imprint methods and techniques for your brand!
Still confused on any terms? We'd be happy to give you an explanation. Just use the comments section below or contact us directly. :)
---
Category: Knowledge Base
Tags: Branded Swag, Promo Items, Imprint Methods